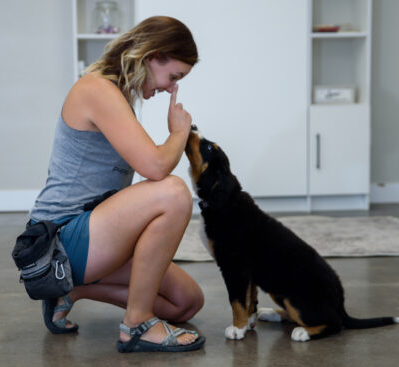 Explore our Programs
Do you think our board and train program may be right for you? Come check out the different options and what each one entails.
Is a board and train program right for you?
Recently, more and more pet owners are discovering the amazing benefits of a puppy board and train program. If you're a new pet parent or considering adding a new puppy to your house, you may be considering enrolling in one of these programs.
Before you make a decision, it's important to understand what a puppy board and train program actually is and if it is the right fit for you. A board and train program is essentially a combination of boarding and traditional dog training. The puppy will stay with a professional trainer, where they will receive one-on-one and group training sessions. This generally include basic obedience such as sit, stay, and down as well as more advanced commands and behaviors such as recall, and proper leash walking skills.
The benefit of this type of program is that it allows for a head start with your puppy's training by having a professional trainer handle the more tedious aspects of training. However, a puppy board and train program isn't the right choice for everyone. It's important to consider your own lifestyle and time commitments when making the decision to enroll in a program. Do you have enough time to commit to training your pup while also caring for the other commitments in your life? If not, a puppy board and train program may be the right solution.
It's also important to find a reputable trainer who offers a program that best fits your needs. Do your research and ensure the trainer is qualified to help you reach your training goals. Overall, a puppy board and train program can be an excellent solution for pet owners who don't have the time or experience to handle the initial training of their puppy on their own. If you're willing to commit to the program and find the right trainer for your pup, you'll be one step closer to having a well-behaved and loving canine companion!