The Puppy Steps Training Program
The Puppy Steps Training Program course lays the groundwork for a happy and successful life. This board and train program is focused on producing lasting results by fostering your puppy's natural abilities.
Every dog is a unique individual with personality and individual needs. They learn at different rates, and in different ways. Puppy Steps Training's unique approach to individual success fosters your puppy's natural abilities in a loving environment, specifically designed to their needs.
Our goal for your puppy is a smooth, peaceful transition to your home, with long lasting training results. This is best achieved with patience, and a program with the flexibility for your puppy to learn at their pace. Our program takes between 6-8 weeks, to allow your puppy the time to achieve the results you need, without undue pressure and hardship.
One of the primary reasons for the age limit for beginning training here is our emphasis on early puppyhood socialization. Developmentally speaking, puppies undergo a "critical socialization period" between the ages of 7-14 weeks where everything they see, hear and experience has a lifelong impact, either positive or negative.
Puppies spend the first 2 weeks here in a home environment experiencing carefully orchestrated positive exposure to multiple people, places, sounds, surfaces, grooming, other dogs and so much more. Fireworks? Vacuum? Thunder? We know how stressful it can be for a dog who hasn't been properly socialized to these powerful triggers, so we cover it all!
The socialization continues throughout your puppy's stay as he/she is trained in a variety of environments and continues to interact with other dogs, cats, kids, sounds…and, of course, more grooming!

Having a well-mannered puppy is crucial for a variety of reasons. Firstly, it ensures the safety of both the puppy and those around them. A puppy that has been taught manners is less likely to engage in behaviors that can lead to accidents or injuries, such as jumping, nipping and resource guarding. This not only protects the well-being of the puppy but also prevents potential harm to children, elderly individuals, or anyone else who may come into contact with the dog.
Secondly, good manners make everyday interactions more enjoyable and stress-free. A well-behaved puppy is pleasant to be around, both at home and in public settings. They are more likely to respond to commands and follow instructions, making other activities like walks, visits to the vet, or outings to public places much smoother and more enjoyable.
Lastly, training a puppy to have good manners establishes a foundation for lifelong obedience and discipline. The skills and behaviors learned during puppyhood lay the groundwork for their development into well-behaved adult dogs. By instilling good manners early on, owners set their puppies up for success and reduce the likelihood of developing behavior problems later in life.
By investing time and effort into training and socializing a puppy, owners can foster a strong bond with their canine companion and ensure a harmonious relationship both at home and in public settings. The benefits of a well-mannered puppy extend far beyond their early years and contribute to their overall well-being and integration into your home.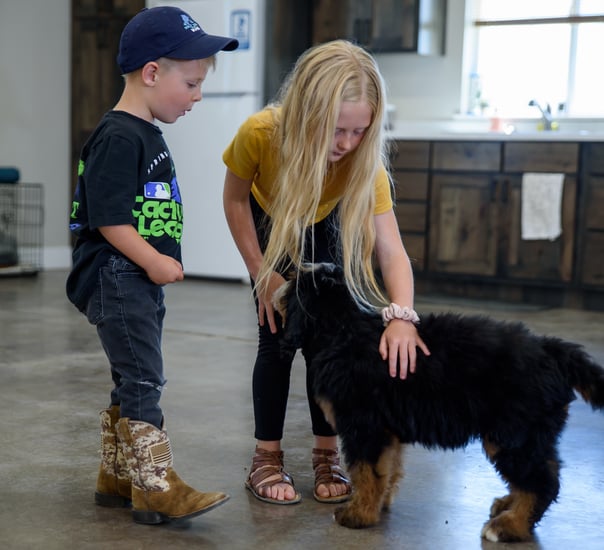 When it comes to dog training, this is exactly what comes to mind for most people. Our team of experienced trainers is dedicated to teaching your puppy all the essential commands they need to become an obedient companion. From the basics like Sit, Down, Stay, and Place, to more advanced commands like Drop it, Heel, and Come, we cover it all.
Our training program focuses on positive reinforcement techniques that not only help your puppy learn quickly but also strengthen the bond between you and your furry friend. With our expert guidance, your puppy will not only master the fundamental commands but also develop the skills to excel in more challenging situations. Don't miss the opportunity to give your puppy the best training experience possible.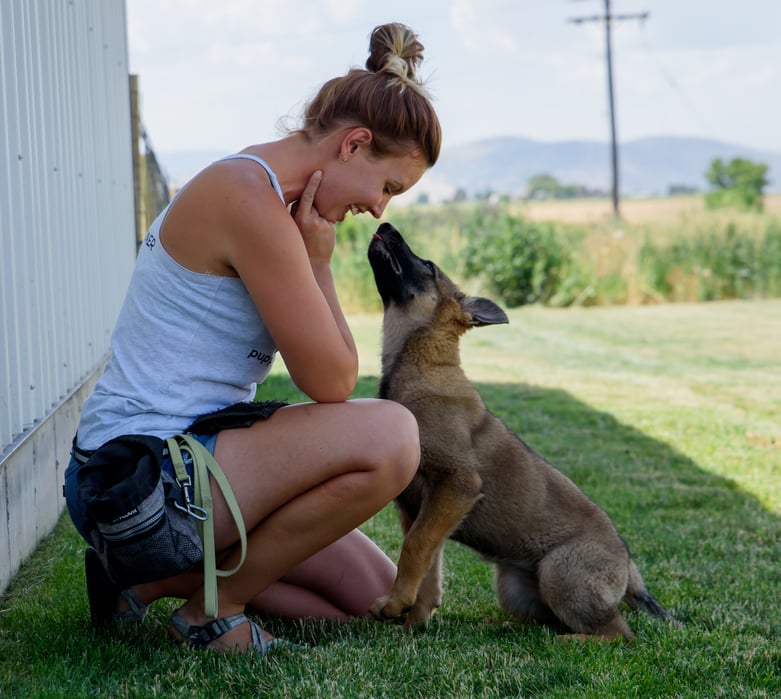 House Training
We understand the challenges of house training your new puppy. That's why we take care of the hard work for you, so all you have to do is be consistent and follow through for a lifetime of successful potty training.
Our team will provide you with a comprehensive and easy-to-follow schedule that is tailored to your puppy's needs. This schedule will not only help your puppy transition into your home smoothly but also ensure that they develop good potty habits from the start.
With our guidance, you can say goodbye to the stress and frustration of house training. We believe that consistency is key, so we will equip you with the tools and knowledge necessary to establish a routine that works for both you and your furry friend.
By following our strict schedule, you'll be amazed at how quickly your puppy adapts to their new surroundings and learns where to go potty. Our proven methods have helped countless pet owners achieve long-lasting results, creating a harmonious environment for both puppies and their families.
Don't let the fear of house training deter you from welcoming a new member into your home. With our support and guidance, you can enjoy the journey of raising a well-behaved and potty-trained puppy. Trust Puppy Steps Training to provide you with the resources and expertise needed to make house training a breeze.
Crate Training
Are you tired of sleepless nights and constant clean-ups? Look no further! Our expert trainers are here to teach your adorable puppy the secrets of sleeping peacefully in a crate. Say goodbye to accidents and endless hours of crying. With our proven techniques, your furry friend will learn to love their cozy crate and enjoy a restful night's sleep. Let us guide you and your puppy on this exciting journey towards crate training success.

Our systematic approach carefully builds one phase of training on another so training which typically takes months can be taught easily within a few weeks without being overwhelming or discouraging.
Your puppy is in great hands! All of our trainers are qualified through one of our in-house or nationally-recognized professional dog trainer certification programs. We know what we're doing and unlike other in-house trainers, we're not distracted by chores, other work, kids & just… life! Our trainers are on the clock & 100% focused on your puppy.
After so much care and expertise has been invested into your puppy, it would all be for nothing if that training didn't transition to your home! We understand that not everyone has the time available to become an expert in dog behavior, so we have 4 resources to quickly make you your dog's expert!
Training Manual – We've written an in-depth "How-To" manual which details every behavior taught as well as exactly how to reinforce and build on it. The manual includes colorable flash cards and removable quick-references for the whole family!

Online Masterclass – We have also created a 6 week online video tutorial specifically for this program which you can access for a lifetime. It's designed to quickly train you to be your dog's trainer in a very short amount of time.

Final Training Demonstration/Class – When your puppy graduates you're invited to join us as your puppy demonstrates all of his/her awesome new puppy skills! After the demonstration we walk you through giving commands and asking for manners. You'll be amazed at how polite your puppy can be! Demonstrations are recorded and sent prior to transport if you can't come to personally pick up your puppy.

Lifelong Support – As long as you have your puppy we're here for you! Be it days or years down the road when you've got questions we're happy to help.
All puppies are trained to our set standards and don't graduate until we're confident they've mastered each one. This is another factor that sets us apart from so many other training options…you're paying for results, not time!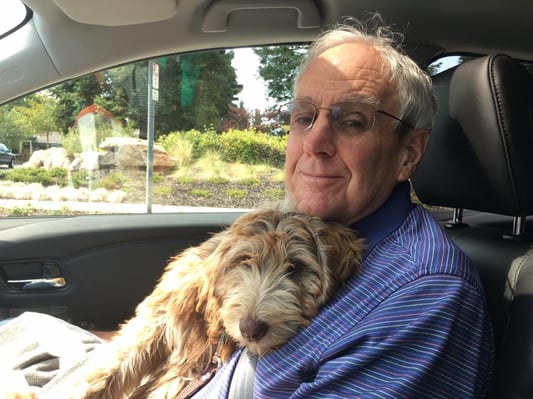 Download our free program brochure! We cover the course, and talk about how to get registered.
Be there every step of the way!
Our programs are specifically designed to foster a lasting bond with your new furry companion. Utilizing cutting-edge communication tools, we ensure that you are kept informed every step of the way, as your puppy embarks on their incredible journey! Through daily updates on their growth and well-being, you'll experience an unparalleled closeness with your beloved pet.
Furthermore, upon completing the program, you will gain exclusive access to our extensive library of invaluable training resources, enabling you to preserve your puppy's remarkable progress.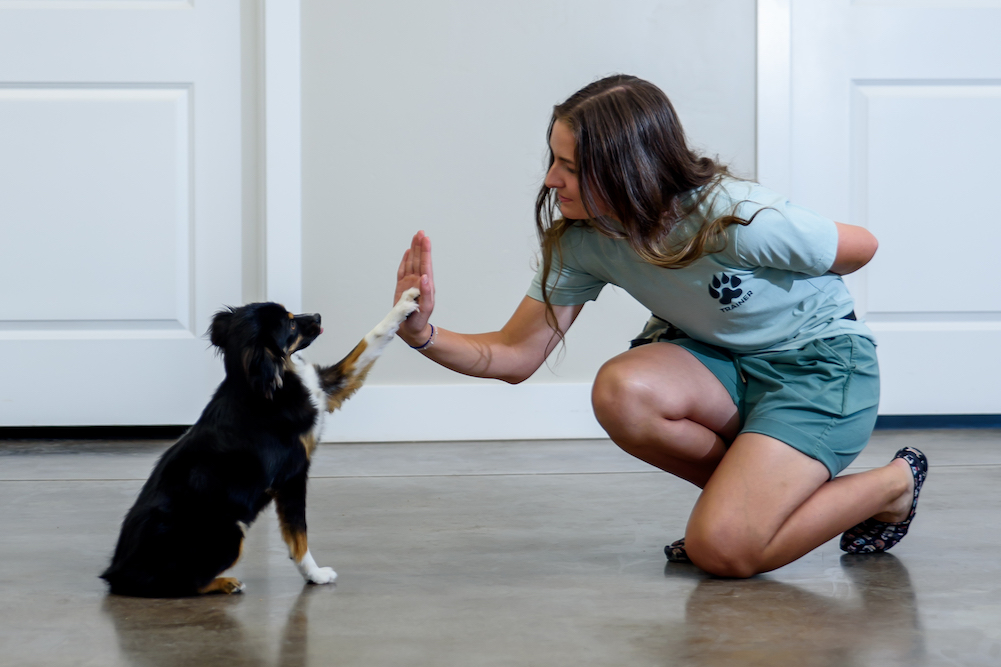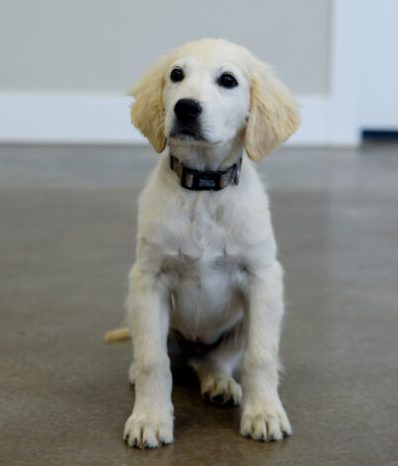 The right training, at the right time
The Puppy Steps Training Program is specifically engineered to lay the groundwork on which you and your companion will build a long, successful relationship. We are best able to achieve this during a dog's most influential period; early puppyhood. During this phase, your dog is the most open to new experiences, and is setting their expectations for the rest of their life. Of course, you can teach an old dog new tricks, but we'd prefer to give your puppy the best possible start on life.
To facilitate our training style, and to best ensure the safety of our enrolled students, we restrict enrollment in our foundations course to puppies under 6 months old.
Build Out Your Training Program
Looking for something more than our standard offering? Build a custom training package for your puppy to give them the best possible start!
Are you curious to explore how our program can effectively address your concerns and cater to your training needs?
Complete the form on the right or contact us today!